2023 Book Genius Course Offerings

"A great book isn't just a story, its a ladder to your dreams..."
- Jayne Allen, Bestselling Author and Founder, Book Genius
The road to writing and publishing a book is not an easy one, let alone mastering marketing and building a sustainable business. Often, the most difficult part of the journey is the very beginning--in the gap between your fragile, but insistent desire to become an author and actually taking the steps to make it happen.
I know, because I've been there.
Now, in interviews I'm asked all the time, when did you know that you wanted to be a writer?
And the truth is, I've always wanted to be a writer, but it took me way too long to realize I could be, and even longer to figure out how to make it happen.
I was the student, terrified of critique of my own writing, but always imagining my name on the cover my own book one day. I'd walk through the library aisle and trace my hand along the curve of every book spine on the shelf, each crackle of the telltale plastic dust covers against my fingers a reminder of how badly I wanted to see my own book there.
You know the adult, whose mind drifts away in long meetings, filling note pads with lists, and dreams, and ideas for what you would write if you ever got the chance? That person was me too.
Well, finally, one day I decided to give myself that chance. I took a writing class. Three years later, I published the first book that changed my life. Five years later, following the same playbook, I did it again.
Meet Your Instructor, "Jayne Allen"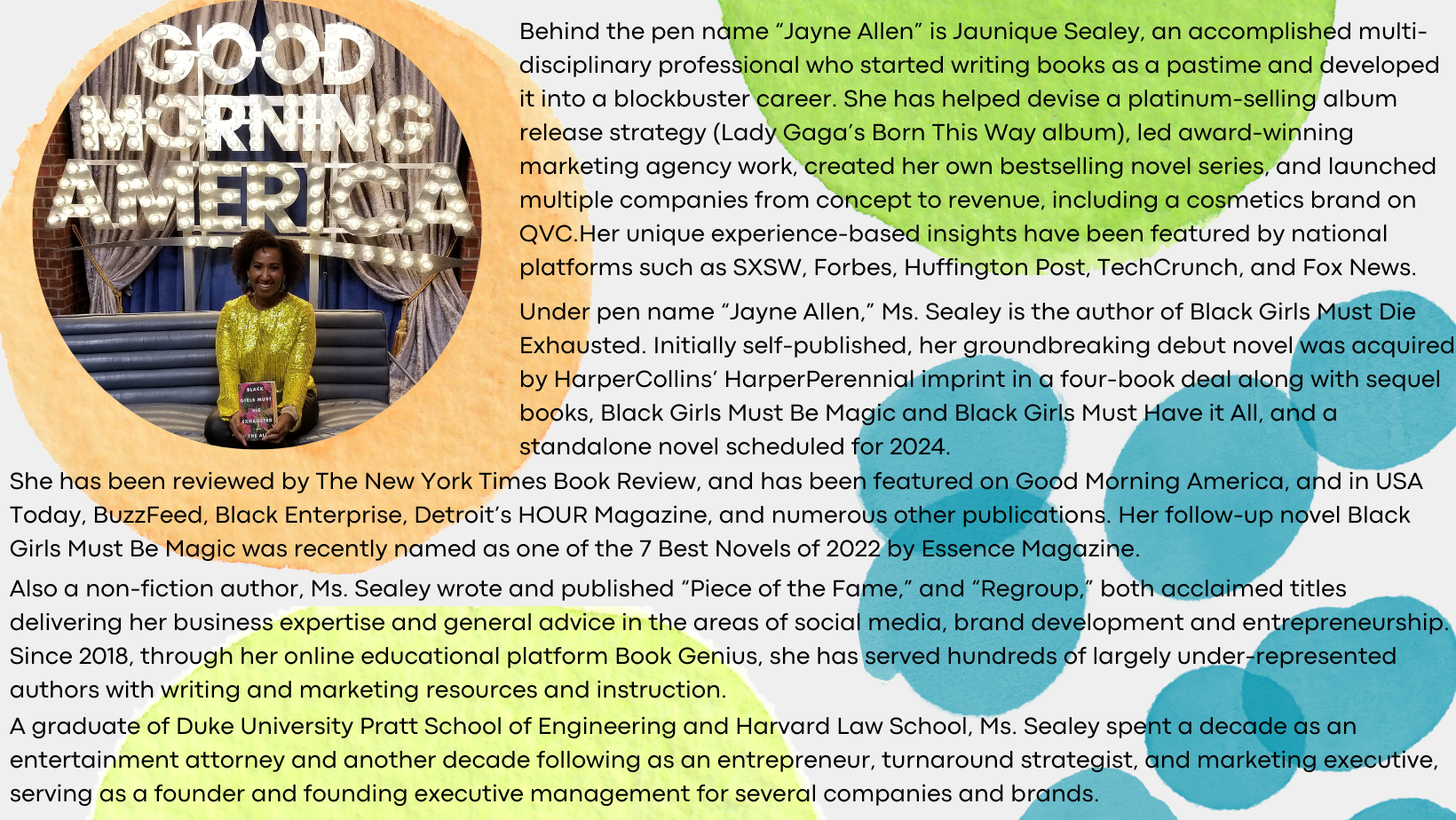 Perhaps your "ladder" book is still unrealized, but it's not because you don't have an MFA.
It's also not because you don't have enough time to write.
It's not because you don't know enough about publishing or marketing.
It's also not because you aren't enough of an expert.
Your "ladder" book is unpublished, but not because your story isn't big or interesting enough.
And it's certainly not because you're not a good enough writer.
Your dream book is unpublished because you are missing what I've learned through my own experience are the three most critical ingredients to an author's success:
Vision, Confidence, and Process.
You will need all three for your book's success.
When you have:
✅ A clear and unshakable vision of the book you seek to write and how it will impact the world
✅ Absolute confidence that you know how to complete your book with 100% certainty.
✅ A proven process you can repeat to reliable results…
You will have conquered every obstacle to your dreams.
This is what the Book Genius Course Curriculum delivers.
If you have been frustrated up to now as an author, and you're ready for a change in approach and perspective, delivered by a bestselling author (over 100,000 copies sold) who went from self-publishing to a four-book contract with a Big Five publisher...
Then Book Genius is for you.
Book Genius is a course series especially crafted by an author for authors to learn the fundamentals of writing process, marketing, and publishing to establish a repeatable method that empowers participants to control their creative destiny.
The entire Book Genius curriculum is a seven month program, starting in April 2023, with live instruction offered in five core course modules:
writing process and manuscript outline course
editing and revision workshop
marketing and author platform development course
character development course
publishing business fundamentals course
Plus, two 30-day guided writing challenges.
Participants can purchase modules à la carte, or receive a discount for the entire 2023 Book Genius course bundle.
Raw knowledge, like what you find on the Internet, can be overwhelming, often wrong, and thus ineffective. Conveying and delivering wisdom is our objective—your shortcut to knowing what to do, what not to do, and what to not even worry about—information that usually only comes through direct experience.
This is a carefully-curated expert experience, specifically designed to give you precisely what you need to know to get to where you want to go.
You'll get my own publishing and marketing playbook, the one I used to sell 20,000 copies of my self-published book, adapted from the same principles that I employed running the marketing agency and consultancy that launched platinum-selling albums, award-winning retail activations, and even products on QVC.
Also, you'll be able to go behind-the-scenes with me in real time as I launch my upcoming book, develop the television show adaptation of my novels, and write and next sell my non-fiction how-to/memoir.
I won't be teaching you everything I know about publishing, because that's just too much information, and not all of it is helpful to you as an author. No one likes the feeling of drinking from a firehose.
What I will teach you is everything you need to know about publishing, the writing process, marketing yourself and your books, creating characters that sell (including into television and film), and the fundamentals of the publishing business so that you can feel confident, informed, and capable to manifest your vision for you book and the life you wish to create!