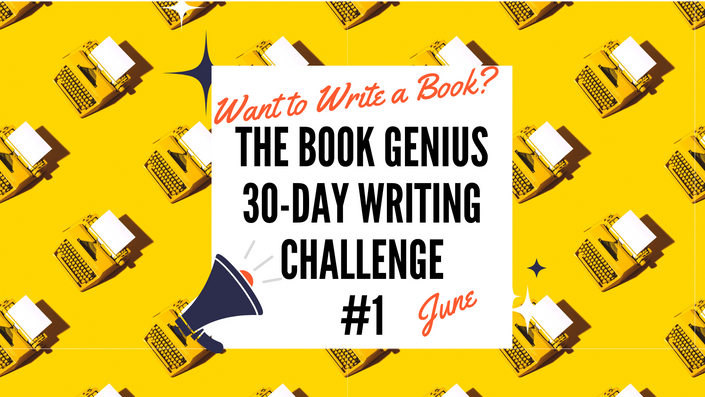 Book Genius 30-Day Writing Challenge #1
June 2023
Can you imagine writing your book alongside a bestselling author, word by word, page by page, until you've reached the end of a draft manuscript you've been dreaming about?
What about writing your manuscript in just 30 days, following easily attainable daily word targets?
Can you envision having the benefit of celebrating each milestone accomplishment in a group of like-minded, friendly writers eager to encourage and support you as you gleefully make progress toward your goal?

And can you see yourself hitting "save" on the latest version of your manuscript and feeling the satisfaction at that very moment--you've reached your first draft word count—feeling the joy and relief of having completed what 92% of other would-be-authors never manage to finish?
Can you imagine yourself as an author with a completed manuscript draft?
If you can, then you are in the right place.
By the end of this June, that image of the accomplished author, the person with the completed manuscript, increased self-confidence as a writer, and a whole new community of writer friends readily cheering them on…can be you.
Your Instructor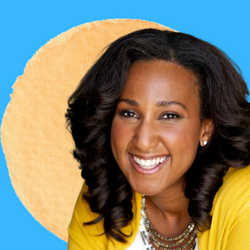 Behind the pen name "Jayne Allen" is Jaunique Sealey, an accomplished multi-disciplinary professional who started writing books as a pastime and developed it into a blockbuster career in publishing. She has helped devise a platinum-selling album release strategy (Lady Gaga's Born This Way album), led award-winning marketing agency work, created her own bestselling novel series, and launched multiple companies from concept to revenue, including a cosmetics brand on QVC. Her unique experience-based insights have been featured by national and international platforms such as SXSW, Forbes, Huffington Post, TechCrunch, and Fox News.
Under pen name "Jayne Allen," Ms. Sealey is the author of Black Girls Must Die Exhausted. Initially self-published, her groundbreaking debut novel was acquired by HarperCollins' HarperPerennial imprint in a four-book deal along with sequel books, Black Girls Must Be Magic and Black Girls Must Have it All, and a standalone novel scheduled for 2024. She has been reviewed by The New York Times Book Review, and has been featured on Good Morning America, and in USA Today, BuzzFeed, Shondaland, Black Enterprise, Detroit's HOUR Magazine, and numerous other publications. Her follow-up novel Black Girls Must Be Magic was recently named as one of the 7 Best Novels of 2022 by Essence Magazine. Her books have sold over 100,000 copies worldwide across formats and her first novel was translated into Portuguese, specifically for release in Brazil. The year after its initial release, the Black Girls trilogy was optioned by AGC Studios and is currently in development as a television series.
Also a non-fiction author, Ms. Sealey wrote and published "Piece of the Fame," and "Regroup," both acclaimed titles delivering her business expertise and general advice in the areas of social media, brand development and entrepreneurship. Since 2018, through her online educational platform Book Genius, she has served hundreds of largely under-represented authors with writing and marketing resources and instruction.
A graduate of Duke University Pratt School of Engineering and Harvard Law School, Ms. Sealey spent a decade as an entertainment attorney and another decade following as an entrepreneur, turnaround strategist, and marketing executive, serving as a founder and founding executive management for several companies and brands.
To make sure you get a running start and to bring you into community with a few other amazing people just like you who are eager to support one another and take advantage of the opportunity to reach the finish line…
I have created the Book Genius 30-Day Writing Challenge.
I always have another book to write, so these Writing Challenges give me the opportunity to meet a group of motivated writers and to get a move on getting that first draft done.
So, I will be writing right along with you, and setting the tone for our uplifting writing experience.
Our "crew" will have a private Facebook Group where I will check in from time to time, let you know how things are going for me—challenges, lessons learned, tips and tricks, and an honest report of my word count so that you can hold me accountable as well as each other.
In the writing challenge, I also provide a daily writing prompt for everyone just in case you have a day (or several) that you're not quite sure where to go on your actual manuscript roadmap, starting with Day One. And guess what, the writing exercises I've created are specifically designed to easily get you to 1667 words (roughly 4 typed pages) in a single sitting. Not only that, but the prompts will also create writing that eventually can be re-integrated into your manuscript.
All along the month of our June 2023 Writing Challenge, you can submit questions to me directly, and pose questions in our private group.
Once per week on Saturdays in the month of June, at 12 pm ET/9 am PT, I will host a livestream where I will answer questions and teach on a topic to help bring your writing to the next level.
Here are some of the topics I covered in the November 2022 Writing Challenge:
Developing Unforgettable Characters
What Makes a Book Great for TV and Film Adaptation
How to Create a "Sticky" First Chapter
Supporting Characters that Support Your Story
How Not to Get Bored with Your Book While You're Writing It
Tips For Eliminating Writer's Block
Creating a Writing Schedule That Works
The A-B-C's of Editing
How to Create a Page-Turning Read
What Makes a Book "Unputdownable"
Creating Realistic Dialogue
…and More!
I am doing this because I have been there, where you are—frustrated, busy, but wanting so badly to accomplish my dream of writing a book. What I needed most was someone to cut through all the noise and help me figure out exactly what I needed to do, because I didn't have any time to waste.
And if I hadn't figured it out, and had people to help me along the way, I might have never gotten around to writing my book. Which would have been such a loss because the experience has been absolutely wonderful—not easy—but, incredible and I wouldn't change it for anything.
I want that for you as well. We're all waiting for the perspective that you have to offer!
To register, just click the Enroll button below.
You'll be enrolled in the June Book Genius Writing Challenge.
Once you're enrolled in the course, you'll receive instructions on how to join the Facebook Group, which will officially start on June 1, 2023.
But first things first, go ahead and sign up, and together let's make this the best November we've had in years!

Can't wait to see you there!
Logistics:
The June 2023 Writing Challenge Livestreams will take place on Saturday mornings during the month of June at 12 pm ET/9 am PT. To access the livestreams, you'll just come right here to the course page and click on the "Saturday Livestream" Lesson for the week as appropriate. In case you miss a Livestream, you'll be able to access it as a recording.
You'll be able to submit questions for the weekly Livestream during the Livestream, or through the Course portal as well as the private Facebook group.
Any questions? See the FAQ's below.
Frequently Asked Questions
What if it's after June 1st? Can I still join the challenge?
No, enrollment ends on June 1, 2023. If you're interested in joining a future challenge, please join the mailing list for the announcement of the next one!
How long do I have access to the November Writing Challenge content?
How does lifetime access sound? You will have access to the all of the content from the challenge even after the challenge ends to come back to for reference or future inspiration. You will also have ongoing community access to the private Facebook group for challenge participants.
What if I can't write 1667 words on one of the days of the challenge?
This is meant to be a fun and enjoyable way to help you develop your ability to write something every day. Consistent effort is the key to completing your book manuscript, but you do not need to be perfect! Even if you cannot meet the word count for the day, you're still encouraged to do your best, whatever that is, and pick right back up the next day!
What if I don't know what to write or how to write a manuscript?
The main goal for you with this challenge is to develop the habit and muscle of writing every day. As part of the Writing Challenge, I will be providing daily writing prompts that should give you enough content to write about to fill the daily word count and should also contribute toward your final book manuscript, whether you are writing fiction on non-fiction. In the resources lecture in the "Day 1" lesson, you will find a few books that are quick reads that can help you with creating a book outline to write from and provide basics on what to include. There is also a short Book Genius course called "Jumpstart! Your Book" that is available as an add-on at check out. The Jumpstart! Your Book Masterclass is a total of two hours of video instruction, giving you foundational lessons if you'd like to be more directed about using this Writing Challenge to write the first draft of a novel.